Crane-maintenance
Dear Partners,
Hereby we would kindly like to inform you, that on Rail Cargo Terminal-BILK from December 9, 8:00 a.m. are going to begin crane-maintenance works, which are expected to be completed till December 14, 04:00 p.m. The maintenance affects only one of the cranes. During this period the service time on the terminal occasionally can increase. Please, inform your partners, subcontractors. We apologize for any inconvenience caused.
Thank you for your kind understanding and cooperation!
Rail Cargo Terminal-BILK Ltd.

KKD integration
Dear Partners,
As we have already informed you Rail Cargo Terminal -BILK Zrt. (RCT-BILK) has acquired 100 percent ownership in Kelenföld Konténer Depo Kft (KKD). The integration process was completed on 31st July, the termination of Kelenföld Konténer Depo Kft. was officially registered by the court. KKD is now under the control of RCT-BILK, does not perform any separate activity. Areas merge while the internal borders disappear. Currently the entry of the empty units is available only through the depot gate of RCT-BILK from the parking area.
The drop off and release instructions regarding the empty containers can be sent to our forwarding administrators on working days between 6:00 AM and 5:30 PM via email: szallitmanyozas.rct.bilk@railcargo.com. If you face with any other operational issues, please contact Mr Zoltán Zádorvölgyi at zoltan.zadorvolgyi@railcargo.com or at +36 20 211 9072.
Regarding sales, you can turn to Mr Viktor Lippai at viktor.lippai@railcargo.com.
Rail Cargo Terminal – BILK Ltd.
Integration of Kelenföld Konténer Depo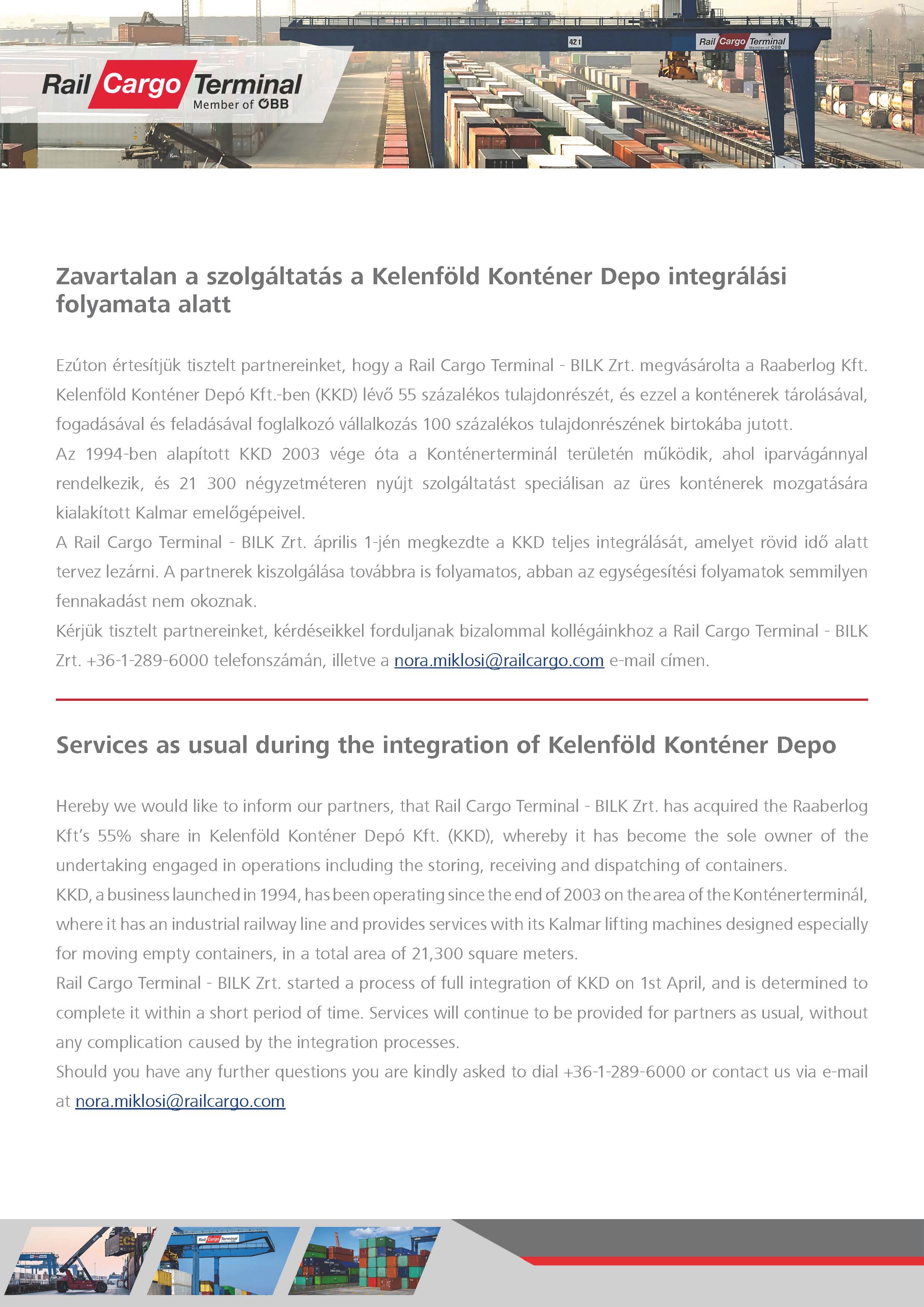 Opening hours 2018.